Beskrivning

Ashmei löpartights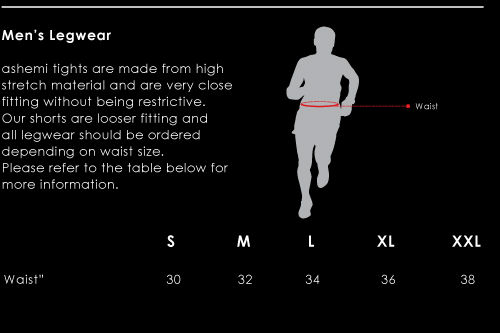 How this running tight keeps you warm without getting too hot
Our Men's Running Tight are made from merino wool as this is the only fibre that regulates your body temperature, keeping you warm when it's cold but cooling you in warmer climates. It's this heat regulation that make our tights ultra comfortable and protects you from the elements without causing too much heat and sweat. We use a luxury stretch lycra from Italy on the calf area that has a durable water resistant finish so that mud and water simply beads off the surface, keeping your legs dry and comfortable. We call this mix of different fabrics on specific areas of the body 360º mapping.
The merino stretch material from the waistband to the knee has been developed by ashmei to our own specification and we have mixed just the right amount of merino, nylon and stretch to provide maximum comfort. The merino fibres are placed next to the skin to provide the best heat regulation and wicking while the nylon is on the outside to reduce pilling.
We have constructed the knit of the fabric to resist wind penetration and if your tights become drenched in a downpour, you wont feel the chilling effect usual with synthetics as the merino wool will start to warm you instantly.
Merino wool also has some other benefits over synthetic yarns such as they resist bacteria which cause synthetic yarns to stink after a couple of wears and there is no need to wash your merino tights in special chemical soaps, simply cool wash at 30º and line dry. The other benefit is merino wool is very kind to the environment, being sustainable, renewable and biodegradable.
The Men's Running Tight feature zipped leg opening with super grippy silicone trim to stop the tights riding up when running and a zipped rear pocket for your phone, keys or gels. The waistband has a drawstring for a tailored fot and the tight has some reflective detail to help you get noticed when you run at night.